This is a story that has been making the rounds over the past couple days and it's certainly provided for a great discussion across forums about the value of art.  A photograph (called Rhein II) taken by German photographer  Andreas Gursky, enlarged to 81×140 and face mounted behind acrylic sold at Christie's in New York for $4.3 million.  That's a world record for the most expensive photo ever sold at auction. Wow, that would be an extraordinary amount for ANY photograph.  What has so many shocked besides the amount, is the image itself, which to many is a fairly ordinary photo.  I can't say I disagree.  Here's the image.. what do you think?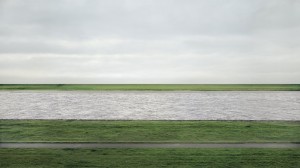 Worth $4.3 million?  Many of course say no way while others remind us that the value of art is whatever someone is willing to pay.  At this level it probably isn't even about the art or what the person buying it likes.  More than likely it's an investment and the purchaser believes it will go up in price.  It should be noted that another photo of Gursky's photos, "99 Cent II Diptychon", sold at Sotheby's for $3.3 million in 2007.  For a man who's still alive that is impressive!  Perhaps the investors are banking on the fact that Gursky pieces will rise in price upon his passing.  Here's the 99 Cent image (yep just a grocery store!)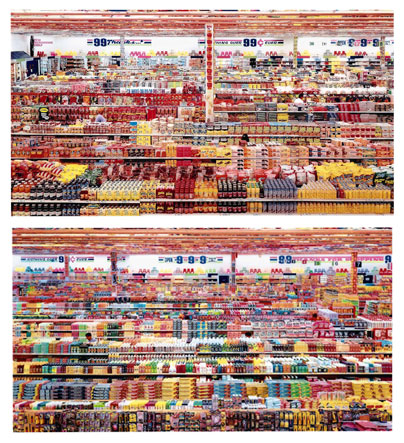 So who is Gursky and why do some of his photos command a premium price?  He's relatively young at 56.  Growing up the son of a commercial photographer, he followed in his father's footsteps and was heavily influenced by the well known team of Hilla and Bernd Becher who specialized in cataloging industrial machinery and architecture.  Some say you can see the influence in his methodical, minimalist pieces such as Rhein II, although most of his work focuses on buildings (both interior and exterior) often from an aerial view.  Francis Outred of Christie's called the Rhein II photo exceptional, saying, "One of the most powerful and profound depictions ever to be created of the Rhine, the photo's unique scale draws an ineffable link to the actual natural landscape, inviting the viewer to cross over into its vivid picture plane."  Gursky describes his work:  "Space is very important for me but in a more abstract way.  Maybe to try to understand not just that we are living in a certain building or in a certain location, but to become aware that we are living on a planet that is going at enormous speed through the universe. I read a picture not for what's really going on there, I read it more for what is going on in our world generally."
In terms of post production, Gursky isn't ashamed of his reliance on digital technology to alter images.  In fact, some elements of the Rhein II were removed.  In terms of presentation, Gursky is known for large pieces face mounted behind acrylic (plexiglass).  This is a spectacular medium increasingly popular in galleries, particularly on the east coast.  At very large sizes it can be a difficult process to achieve a perfect piece without air bubbles and dust specs.  The large acrylic mounted pieces bring the photos to life like no other medium can and certainly adds value, but it's clear Gursky is a master of self marketing.  You have to be to command these prices!
If you want to have your own photos enlarged and acrylic mounted, Seattle based Bumblejax are experts in this medium and also offer photo mounting to bamboo and raw aluminum as well.   Below is a shot of an image face mounted behind acrylic (plexiglass).  Just as small images of Gursky's work on the web likely doesn't do them justice, the same applies here.  You really have to see this medium up close and personal to appreciate it.   The photo behind 1/8″ acrylic enhances the colors and gives the image a near 3-D effect particularly when the photo is printed on metallic paper.