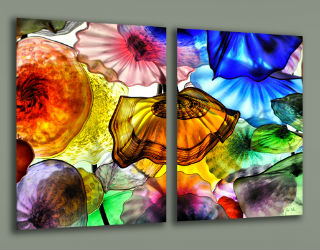 Here at Photoble, we talk a lot about cameras, photography tips and tricks, post production and inspiration through examples of extraordinary photography (take a look at the recent article with examples of risk taking photography!)  What we haven't discussed much of are the different ways to display your photography on the wall.  For those that are only familiar with traditional frames and canvas, this post might be an eye opener for you.
Of course, with the advancement of printer technology over the past decade or so, it has become possible to print on a variety of materials.  There are several sites that will print your photo onto everything from coffee mugs, to pillows, to iphone cases, to tiles and t-shirts.  You name it and it can probably be printed on.
This post aims to focus on modern, gallery quality presentations of your photos – for photographers that want to stand out from the crowd or even just a family who wants a high end, dramatic look for their favorite vacation photo.   Many opt for canvas prints because they are relatively cheap and have an old fashioned look to them, but they aren't all the unique anymore considering the explosion in popularity of canvas photos.
A much smaller percentage of people are discovering acrylic prints which offer a stunning, vibrant look for their images. This particular method of photo display was introduced in 1969 with the invention of the Diasec process which uses patented adhesives and methods to produce an acrylic face mount where the image is adhered to the front of the acrylic without air bubbles using silicon.  To the best of my knowledge there are no companies in the US with the rights to produce these using the exact Diasec method (if I'm wrong please use comments below).  Most companies without the Diasec rights will emulate the process and achieve identical results using a double sided, pressure sensitive adhesive.
The end result is often stunning, particularly with sharp, colorful images, but sharp black and whites look terrific as well.  The acrylic enhances the colors and creates for a more vibrant image.  With the right gallery lighting, the piece almost appears to be backlit and in a gallery it is sure to stand out from the crowd.  Did you know that in 2011 the world's most expensive photo was displayed in this way and sold for $4.3 million?  This color vibrancy is achieved due to the unique properties of the acrylic where light penetrates and refracts within the acrylic.
At this point, you're probably at least curious about the acrylic face mounting process and what it can do for your images.  It's important you be aware that no acrylic print is created equally and you want to make sure you're getting a high quality product that looks its best.  Here are a few things to keep in mind when considering purchasing an acrylic print, but do have a look at this article from Bumblejax which goes into more detail.
* Direct Print vs Face Mount:  quite a few of the companies offering these are printing directly onto the acrylic which doesn't achieve the same vibrancy or color gamut but it can be considerably cheaper.
* Stand Off Bolts:  Most companies will use stand off bolts in each corner of the acrylic piece to attach another piece of acrylic to the back in a sandwich frame and/or for adhering to the wall.  In my opinion this greatly distracts from the image and many others feel the same way.  You might consider a company that doesn't use this method but rather uses a dibond backer with the hanging mechanism hidden on the back.
* Quality of Backer:  The acrylic, particular at large sizes, may bow over time.  You need rigidity at the back and this is best achieved with a dibond back.  Some companies will use the cheaper sintra option or offer no backer at all.   Know what is being used!
Hopefully, this has provided a good intro for further exploring acrylic prints.  While not cheap, you'll find they aren't more expensive (and often cheaper), than quality traditional frames.  Some companies will also offer special pricing for commercial and pro photographer clients as well as reduced price proofs.
Bumblejax is a company based in Seattle that offers high quality acrylic prints using the face mount method, with no stand off bolts and a quality dibond back.  Each piece floats off the wall and comes ready to hang.  Special pricing is available for commercial clients and pro photographers and proofs are offered at a fraction of the price.  There are a few other companies out there that meet all the requirements for a quality lab, but this is a great place to start.  They also offer photos mounted to bamboo and raw aluminum for another unique look.
Here's a video showing a bit of the process used to create an acrylic print over at Bumblejax (note sintra used in this video, but was replaced with dibond early on).