Many know Steve McCurry's pictures, most notably that certain most famous one titled Afghan Girl, after what at that time was known about the subject of the picture. But then again, most might not be aware that those pictures are his, or even that they have been taken by the same photographer.
What is in the pictures?
Steve McCurry has said himself that it is humans from different cultures that interest him the most. Although it is not his individual judgement of what is normal and what is not that makes his way of looking at people interesting, but rather in what ways humans all over the world are the same, despite the many cultural differences that we have. As the photographer bio on National Geographic's website says, Steve McCurry "captures the essence of human struggle and joy."
Picture by Steve McCurry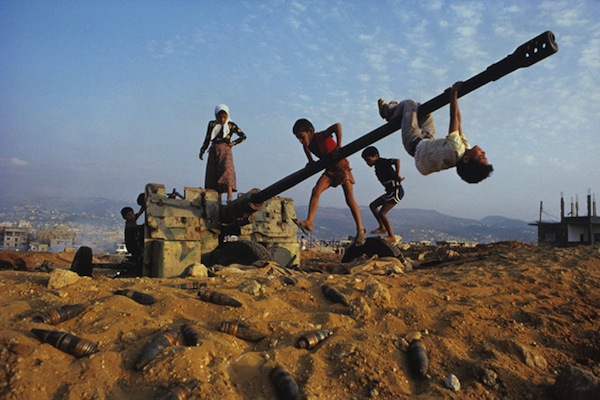 Steve McCurry's photography is often described as a distinctive mix between photojournalism, portrait and street photography, which is probably best understood when looking at the different types of pictures he takes. Among his pictures there are closeups of people whose faces tell a story and have a certain uniqueness to them, but there are also pictures of street scenery or even rural settings and sometimes you cannot even see the faces of the people in the pictures. But it seems that he always looks for the bigger picture, for things that connect us humans all over the world and make us all alike.
Picture by Steve McCurry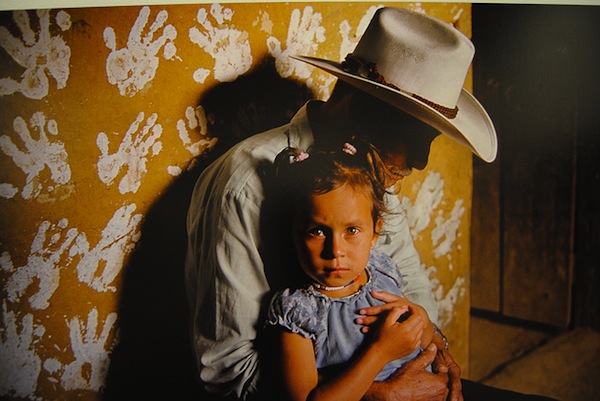 This picture was taken in Texas and shows a rather normal setting of a dad or granddad spending time with his daughter or granddaughter; so the content of the picture is not that special when we only look at who is in it. But that certain lighting and something about the girl's eyes is what caught the photographers attention.
Picture by Steve McCurry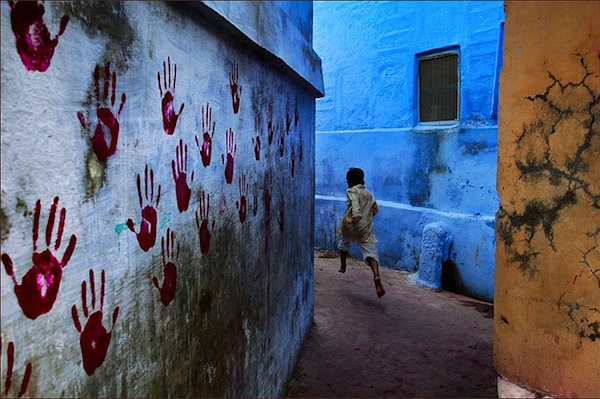 That is what Steve McCurry said about the picture and what he found special about the setting:
I've been going back to this visual ancient quarter of Jodhpur for probably 20 years, and I know that area very well, I must have photographed every street. But there was one corner that I realized had potential for an interesting composition with these hand prints on the wall.
As he said in another interview, he always found it strangely interesting how in all corners of the world there are those colored handprints on walls. To him, this is another example of how humans all over the world are the same, although might talk differently and have different thoughts and beliefs… there is always something to connect. Even if it is the most simple thing.
Early work
After he finished his education at the College of Arts and Architecture at the Pennsylvania State University, he started working as a photographer for a newspaper and stayed there for 2 years,  moving away from his original field of study, cinematography. His work for the newspaper made him fall in love with still photography and made him choose this as a career path.
After this job, he went to India to do some freelance work and improve his skills as a photographer. It wasn't long before he entered Afghanistan in 1979, dressed in local clothes to sneak over the border and report on this war-torn country. When his work there was finished, he had to sew his film into his clothes to smuggle them out of the country.  Those pictures were soon published all over the world and among the earliest news images of Afghanistan.  The stunning images won him the Robert Capa Gold Medal for Best Photographic Reporting from Abroad. Steve McCurry continues to travel to disaster stricken areas and places tormented by war, creating photographs that are known to be among the finest anywhere.
Picture by Steve McCurry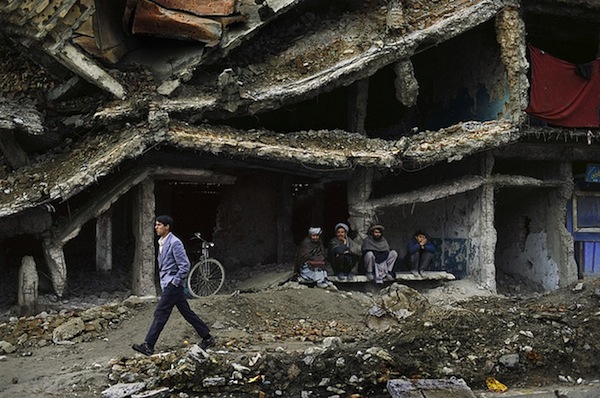 Attitude towards work
I think one of Steve McCurry's interview quotes indicates why he's so successful and his images so well received.
I had photographed these fishermen with this very unique way of fishing from the shore and after a while I realized that to get the best angle was to join them, so I had to wade into the water up to my waist. It's such a strange and wonderful way they fish perched on this pole, which is jammed on this coral reef, and they sit there for a couple of hours in the morning, and then couple of hour in the late afternoon, and I was amazed with how much fish they can actually catch.
Picture by Steve McCurry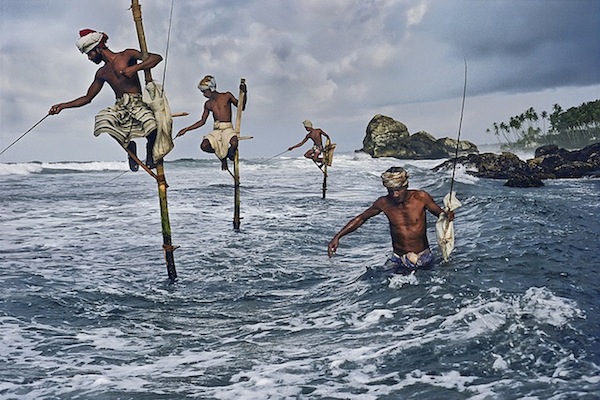 This kind of commitment to taking good pictures is what makes him willing to walk into the water and to take all the inconveniences that come with that kind of decision. Just for a reference, when you key in the words "Weligama" and "fishermen" in the search function on Flickr, you will see that there are many similar pictures taken by many different photographers… but not one of those pictures is a match in quality to the one above.
The willingness and ability to make impulsive and inconvenient decisions isn't the only thing that enables Steve McCurry to get the most out of a scene. It's also the discipline to wait for the right lighting and the right moment. Sometimes it takes several days of going back to the same place over and over again, to sit there and wait around. First you have to scout a place, look at when the perfect lighting will show itself and hopefully get the action you're looking for.
In the pictures below, you can see how all these aspects come together in one awesome picture.
Picture by Steve McCurry
The way that the natural light illuminates the face of the man on the right, the way the train passes by this landmark building that is the Taj Mahal, making it perfectly clear where the picture is taken… for this kind of composition you have to be either very patient or damn lucky. Most of the time it's the patience that gets you there.
Awards and publications
As you can imagine Steve has accumulated quite a few awards over the years.  Among them are the awards for Magazine Photographer of the Year (the same year he won 4 awards at the World Press Photo contest), the Robert Capa Gold Medal for Best Photographic Reporting from Abroad and the Olivier Rebbot Award (twice).
His work has been featured in almost every major magazine all over the globe, and has most notably appeared frequently in the National Geographic magazine for over 20 years.