Vibrant colors, diverse cultures, happy people, fun-packed action, unbeatable excitement…festivals provide you with all these & more! Doesn't it sound like a photographer's paradise?!
The place becomes more than just beautiful landscapes and historical monuments. It becomes a people centric place! But it also becomes a very challenging environment for photographers. There are thousands of people, unplanned events, and lots of chaos!
Here are a few tips which will help you get more out of your trip:
Plan ahead
It is always a good idea to research well before travelling for a festival.
To be able to capture the true essence of the festival you need to be aware of its key elements. So read up, look at the pictures clicked by other people, and if possible talk to a few locals.
Reach early
There is a lot of work that goes into the making of a festival. It is a great idea to capture the hard work that has been put in.
Reaching the festival a few hours earlier will give you an opportunity to interact with people, and take the behind-the-scene shots.
During my visit to the Theyyam festival (http://en.wikipedia.org/wiki/Theyyam), I managed to capture a few shots of the artist getting ready for his performance.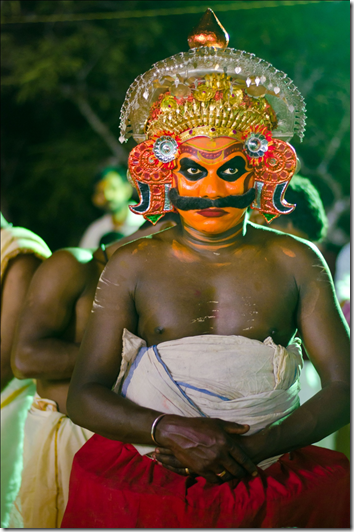 Capture People
The soul of any festival is its people. Take close captures of them. Try talking to them (even if you don't know their language!)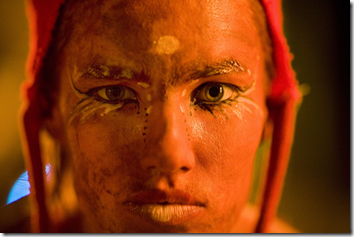 Get creative!
Try to create unique pictures. If you are standing in the crowds and you find yourself shooting with hundreds of people with mobile phone cameras; chances are that you are not trying hard enough.
Get down on your knees and take a low angle shot, get onto a high spot and shoot a picture from above.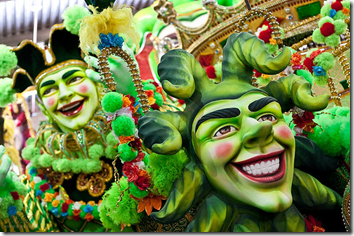 Try shooting reflections; play with the shutter speed, anything which makes the picture more interesting.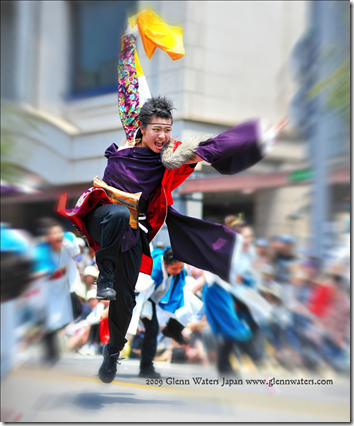 http://www.flickr.com/photos/glenn-in-japan/3674650229/
Concentrate on the tiny details
Sometimes the minute details can bring out the essence of the festival.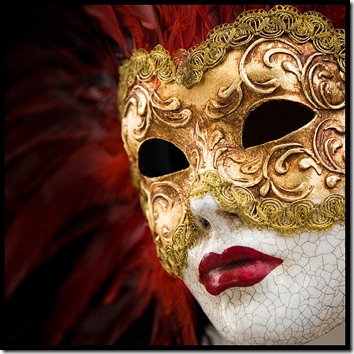 Photo Credit – Giovanni Orlando
Equipment
Some simple tricks from my experience:
1. Carry one bag to the festival
2.  It should contain the equipment, wallet, everything that you might need.
3.  A fast lens always comes handy. A 50mm 1.8 is always a good bet. It is cheap, light and fast! I never travel anywhere without it.
4.  Have the lens hood on! It protects your lens and also reduces any lens flare.
Camera Settings
Festivals are full of action! You don't want to miss a great shot just because you were fiddling with the camera settings.
Here are some tips which will assist you in not missing a great moment:
1.  Shoot Raw
Yes, some of us are just scared of shooting in RAW! (I shot in jpeg mode for a year, before I moved to Raw).
Shooting in RAW will help you a lot in your post-processing stage. For starters you can shoot in JPEG+RAW mode. You will need more memory space but it will help you ease into the Raw mode.
2.  Shoot either in Aperture Priority mode or Shutter Priority mode
You might not have enough time to set both the aperture and shutter speed for each shot. So just decide on one mode and let the camera work on the other. (It is good to delegate sometimes.
3.  When capturing high action shots – shoot in burst modes. This helps you in not missing any moment.
This image is from a buffalo race in Southern India. I wanted to capture the urgency, the tension, the competitive edge. Burst mode helped me immensely in taking this shot.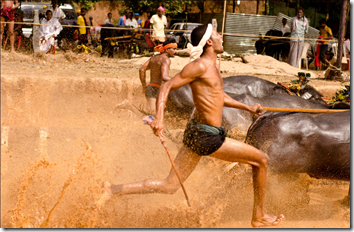 Be sensitive
Lot of celebrations might be religious in nature. Be sensitive, when taking pictures. Do not blow your flash at people. You do not want to disturb the celebration. Be aware of the customs and the rituals. Be discreet and respectful when capturing images.
Lastly, have loads of fun!  After all,  that is what festivals are for!