Lens hoods are annoying to lose and even more annoying to replace. For a bit of plastic, they can range from $20, to even $600 (Canon lens hood for the EF-600mm IS USM lens). What if I told you that you can make your own lens hood for less than $5 and in less than 15 minutes?
This is a short but nifty tutorial thanks to Paul Mutton from Lens Hoods. His site offers lots of free printable lens hoods for various cameras and models.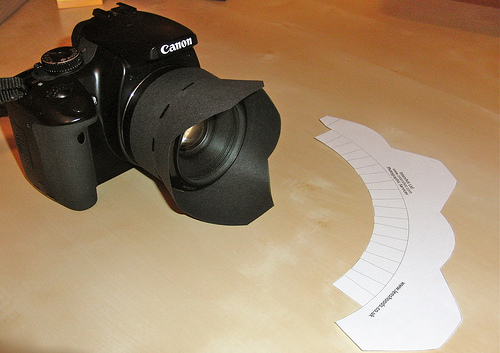 Image thanks to roborovski hamsters
What you need:
Black cardboard paper (construction paper works best)
A pair of sharp scissors
Good glue – look out for ones that are extra adhesive
Step 1
Select which lens hoods you would like to print out from the Lens Hoods site. If you don't find what you're looking for, there is even a custom hoods page.
Step 2
Print it out onto a plain white sheet of paper.
Step 3
Glue the printed sheet onto the black cardboard paper. The two papers don't need to be aligned perfectly, just make sure that the hood template is covered by the black cardboard paper.
Step 4
Start cutting! For more precision, you can use a sharp stencil knife. However, I found using scissors to be much easier and quicker.
Step 5
Glue the hood together into a cone shape, with the white paper on the outside of the cone.
Some extra tips:
If you don't like the white paper showing on the outside of your hood, use a removable adhesive glue to keep it in place. After you cut it out, you can simply peel it off.
Paul Mutton advises that the best way to fit these lens hoods would be to place the tabs over the end of the lens and secure it with an elastic band. For extra security and something more permanent, you can tape it on with electrical tape or gaffer tape.
Want some more hints and help? Check out the comprehensive Lens Hoods FAQ page. Did you find this tip useful? Will you be making your own lens hood?