We made a little overview about  video editing software that are used by beginners and professionals so you can get right solution that suits your needs. Prices are approximate and are there to give you an idea of what you might expect to pay for the particular product. The range of prices are very wide so it is very important that you choose right soft and don't overpay for the features you don't need or get software the doesn't do the job you need, so here are little insight:
Windows Movie Maker & iMovie ~Free
These two are very well known on Win and Mac, and they would fit an absolute beginner. So, if you are just starting to make your own videos, start with these.
Sony Vegas Movie Studio 9 ~70$

Adobe Premiere Elements 8 ~70$

PowerDirector 8 Deluxe ~60$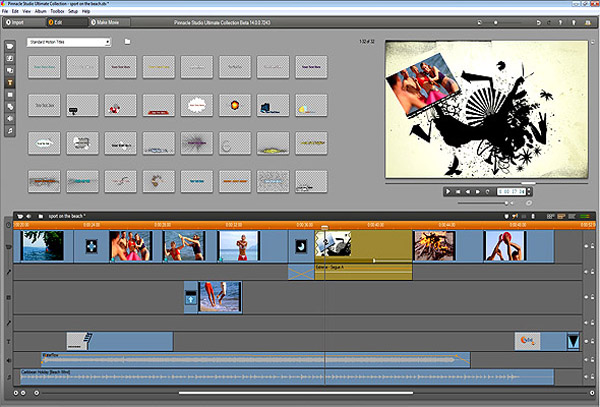 These software would be a perfect solution for home videos or  just for fun and not dig into the complicated stuff. More or less they all are similar. All of them are full of different effects, transitions, titling features, etc. Easily understandable interface and work with drag & drop. They all are in the similar price range so the choice is yours.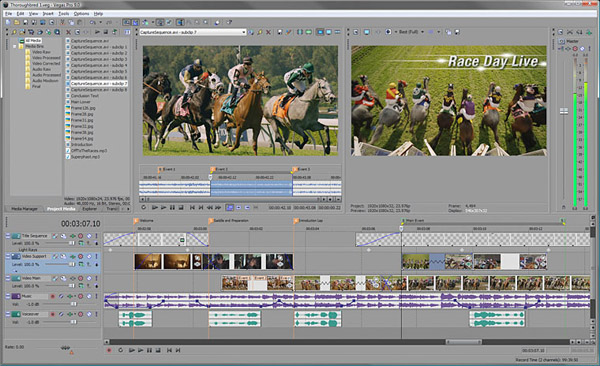 Although it is a very good program for video production, usually it's not considered to be professionals' choice. Most probably it is because Sony Vegas did not become as popular as Premiere Pro and eventually not so demanded. However, it's making its way and gets more and more fans. I am one of them and here is why. I was using Premiere for some time until it started crashing too often, then I tried Vegas and stayed with it ever since. It has easy to use interface and it is very easy to start using other Sony products like Acid Pro for audio, because shortcuts and overall tooling is similar. It has a lot of built-in tools like video effects, transitions, film look presets, keying etc., and also there are lots of plug-ins and tutorials available on the internet.
Compared to other software it only requires : 1 GB RAM (2 GB recommended) and only 1 GHz processor (multicore or multiprocessor CPU recommended for HD), and look at the price. So I would put a big plus sign on this product.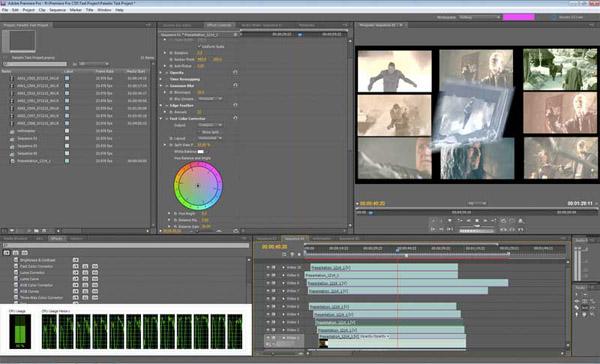 Probably, this is the most known video editing software that you might hear about. I would say it is gradually getting just as good as Final Cut Pro. Some would say that it's more plug-in based and I would partly agree with that. But now every new version has more and more new features built-in. Now they added RED format support, which basically means that they are breaking into the high-end movie making market. The part I like the best about Premiere is its smooth integration with Photoshop, Soundbooth and After Effects. As you will see, there is not much left that Premiere can't do and Final Cut can. It's a bit faster than FCP and it works on both operating systems.
But CS5 has higher requirements that VP : 2GB of RAM (4GB or more recommended), Intel® Core™2 Duo or AMD Phenom® II processor; 64-bit support required.
I would say that only 64-bit support makes some limitations.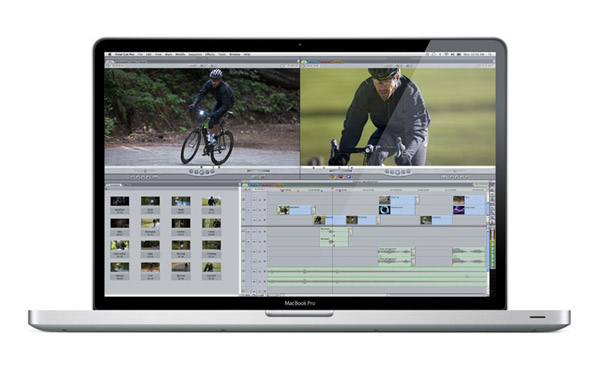 This would be one of the software that Hollywood is using.  Movies such as "300" , "Happy Feet", "Cold Mountain", "Burn After Reading" have been edited with it. Premiere cannot flash with something like this, so it speaks for itself. Software as it is has great editing features coupled with motion graphics and simple 2D animation features that After Effects also has.   FCP has its own products to work with, such as Motion, Soundtrack Pro, Color.
However, this software runs only on Mac and requires 1GB of RAM (2GB of RAM recommended, 4GB of RAM recommended when working with uncompressed HD sources) .
So, if you are Windows user, it may cost you a small fortune to get this working, but if you are on Mac, then I would say this would be very good solution for your videos.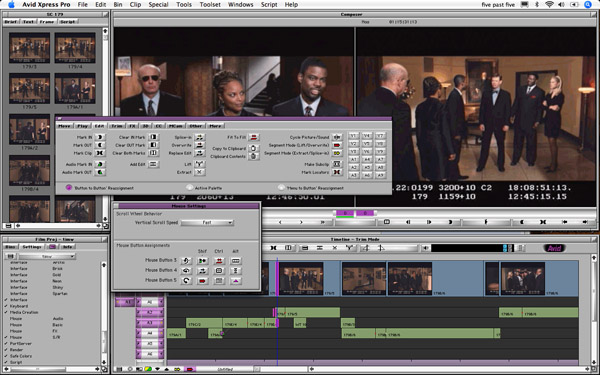 Finally, there's a Big guy in the movie industry. Avid Composer is the most stable and most used professional tool for movie production. If you are considering to do huge projects with tons of files then this is what you need. It has customizable and flexible interface that is easy to use. And still it is an editing software and of course it has all the features that smaller brothers do. But the price, comparably, is fantastically high. And system requirements are : Intel Core 2 Duo 2.33 GHz processor or faster ,2 GB of RAM (4 GB of RAM recommended) and NVIDIA Quadro FX family. Works with both Win and Mac.
I tried to run it on my notebook and I got message about not enough RAM, so of course, if you think to go into the video editing you should have 4GB of RAM at least and quadro core processor.
In conclusion I can say that there are a lot of options to choose from. You can download trial versions of every software and pick one you prefer the most. For VP , PP and FCP there is large variety of tutorials and trainings available.   So start learning and add your touch to the world of movies.