Facebook launched 'Facebook Camera' for iPhone app last Thursday. The app is available for free in the iPhone App store. You can download it from here.
The launch comes as a surprise to many. The buzz from the Facebook's acquisition of Instagram, a similar app, for a billion dollars is still making rounds. While everyone was waiting for news on a collaboration between Facebook and Instagram,  a Facebook developed separate app was very unexpected.
The new app allows you to add various filters to the snapshot with a few taps. It also allows easy cropping of photos. While these features are not any different from the many already available iPhone camera apps, what sets this app apart is its instant sharing on Facebook news feed.
Once you login to the Facebook camera app, you can see a streamlined version of your Facebook newsfeed with images shared by your friends. When you tap on the 'Me' option, you can see all the photos which you have shared or have been taggen in. The photo resolution is also much better than the Facebook app.
The photo sharing on Facebook gets much easier through this app. You can easily upload up-to 30 photos at a time. Tagging and adding Location to the photograph is also now a matter of few taps.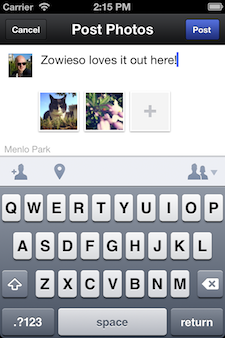 Facebook camera also allows you to edit the picture through the crop and filters option.  On first impression – the filters of the Facebook Camera appear very similar to those available in Instagram.
Overall, Facebook Camera looks like a nice application for people who are already on Facebook and do not want to join a separate photo social-networking website. We are hopeful that many more versions of the updated app will be launched soon.
Check out the Facebook camera's official page for more details.